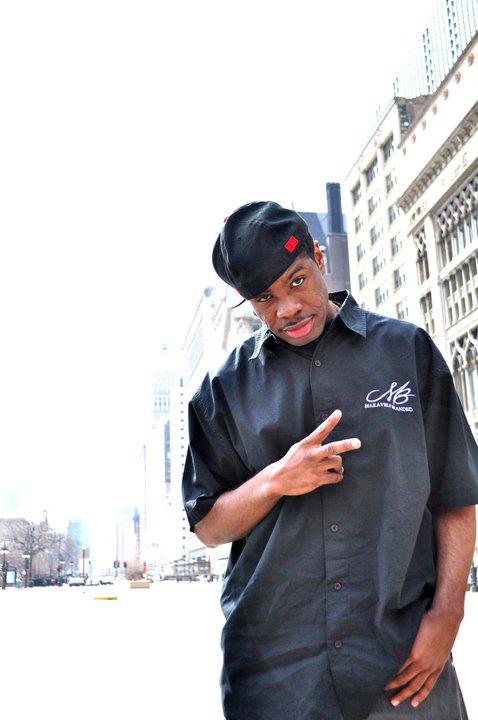 Cloak The Scribe, formally known as "DaCloak" is an explosive Christian Hip-Hop artist. Stepping into the music industry in 2004, Cloak The Scribe stunned Chicago's Legendary Hip-Hop community with his truthful and charismatic flow. Cloak extensively cultivated his lyricism, spending countless hours songwriting, free-styling, and participating in battle raps and impromptu ciphers. Looking back on his journey to becoming one of Chicago's greatest Christian MC's Cloak says, "When first coming into hip hop I had no idea I would want to speak from a biblical world view." But after being inspired by a spiritual brother in the faith he began to realize that God was calling him to be a poet and lyricist."
In 2008 Cloak The Scribe released his first mix-tape entitled "Life Music Vol. 1" from the "Life Music" series while performing his single "Chicago's Done It Again" at every church, conference, and musical events in Chicago. After receiving an impact full response after his first release he was inspired to learn as much as possible about the music industry. This inspiration resulted in Cloak attending the Music Industry Workshop West-side Music Book Camp; where he was deemed as the "Hardest working student."
Cloak says, "I want to inspire hope, transparency, and vision to the listeners. I want to encourage them to seek the Kingdom of God and pursue the dream which God has placed in them." Certainly he is doing just that with his album "Dreams Of A Giant" coming soon, as he displays through music the greater vision and mission God has sent him to fulfill. Cloak The Scribe is a visionary for the Christian Hip Hop community and is commissioned to impact the world with his amazing dedication to God and music.
Where are you from?
Chicago, IL.
How long have you been making music?
10 years
How many songs /albums have you released to date?
I released 1 mixtape prior back in 2008 titled "Life Music Vol.1:Hip Hop Lives". But it garnered very limited success.
Can you tell us about your latest release and the background and inspirations behind it?
My forthcoming album "Dreams of a Giant (DOAG)" was inspired by a biblical scripture Rev. 1:1-3 where Christ charges John (one of his followers) to spread the prophecy of his return and the rapture. It was also inspired by a dream where I observed many of the ills that plague us currently in this day and age. Thus causing the Giant to speak and bring hope to those who lack it.
How have you ended up in the music industry?
A friend in college asked why was I sleeping on my clear God given talent and ability to meet/speak with people where they are. At that time I honestly didn't have an answer for him. Thus here we are.
What do you think of the music industry in 2015?
I honestly feel as though there's a lack of accountability, honesty, transparency, originality, and artistry.
Who do you think the most influential artist?
I would have to say Jay-Z. He and his team single handedly changed quite a bit in the industry and the culture of Hip-Hop.
Who have you collaborated with so far in your career?
New Kingdom Ent. on a collective album titled "Owned Property" on a song titled "Kingdom Mic Check", New Kingdom Ent. for a song titled "Loss For Words", God Sqwad Records on their collective album titled "The Kingdom is Near" on a song titled "Chicagoland".
How do you think you differ from other artists?
My level of transparency. Even if I have to show myself to be the antagonist i.e. the bad guy I'll do so if it helps someone accept Christ and be a better version of themselves.
Dead or alive, who would be your dream collaboration?
Me, Slaughterhouse, and Barrel Brothers.
What was the first album you bought?
My mentor in youth ministry and big bro in Hip-Hop Glen McCarthy (The Ghostwriter). His first album titled "Five Loaves & Two Fish".
What's your favourite song at the moment?
My favorite song at the moment is actually my first album single titled "Wake Up". Let me explain why though. The moment your own music inspires you to be better in every area of your life you don't just have a good song. You have a GREAT song and that's what "Wake Up" is to me.
If you had to sell your music collection tomorrow, what album would you leave in your draw?
Five Loaves & Two Fish.
What is your favourite saying?
With God all things are possible.
What other hobbies or interests do you have?
Weight lifting, boxing, martial arts, sneaker collecting, street wear, watch collecting, New Era hats.
Do you have any tattoos or piercings?
No tattoos or piercings but I wouldn't count me out just yet lol. (Personal preference don't trip)
Tell us more about your upcoming project or this new project?
Dreams of a Giant (DOAG) is collection of dreams, prophecies, eternal thoughts.
What's in the pipeline after this project?
A few collaborations, touring, and videos from this project etc.
Thank you for your time and may you carry on making great, fresh music.
Thank you all for first featuring my first single "Wake Up" doing a crazy job promoting it on the site.
Thank you all for allowing me to grace the platform.
Be looking out for my next single coming very soon and the official video for "Wake Up". Grace and peace.